New Soldier Recruitment is an event used to bring new players to Viking Age. Available at village level 6.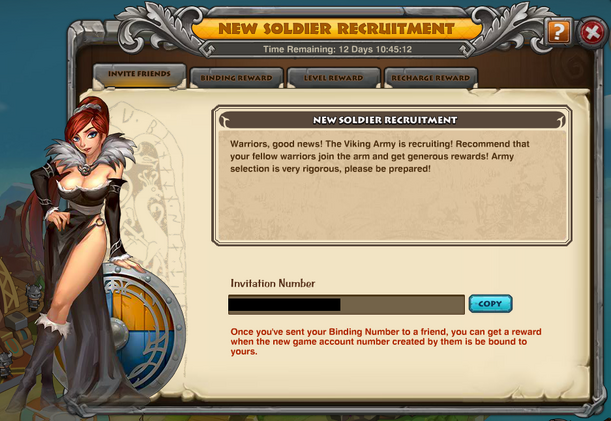 Event Mechanics
When you open the event pop up, it will give you a Binding Code. If you send this code to a friend, and they use your code in the New Soldier Recruitment Event when they start a new Viking Age Account, both you and the friend will receive rewards. *Note* Only accounts created during the time of the event will be able to accept the codes, and a new account can only accept 1 code. Invitation codes are platform specific so new players must play Viking Age from the same website that the invitation code is from.
Invitation codes are not Gift Codes.
Rewards are only collectible during the event and will be forfeit after the event is over. So sharing your code or starting an account late in the event is less beneficial.
Inviter Rewards
The more accounts that use your Binding Code, the more rewards you will get. All rewards are additive.
Rewards are only available during the event. All bound accounts, levels reached by those bound accounts, and real money spent on those accounts must be done within the 2 weeks the event is active.
Number of Bound Accounts Rewards
Number
Silver
Solid Bronze
Regular Wild

Python Tonic

1
2K
5
0
3
3K
10
0
5
4K
15
5
10
5K
20
10
20
6K
25
15
Number of Bound Accounts

That Reached Level 12

Number
Silver
Turf
Cornelians
White

Wax

Tribal

Armbands

Research

Guides

1
2K
2
1
0
0
0
2
3K
4
1
0
0
0
4
4K
0
1
2
0
0
6
5K
0
0
4
2
0
9
6K
0
0
0
3
5
Number of Bound Accounts

That Spent Any Amount of Money

Number
Silver
Cornelians
Research

Guides

Tribal

Armbands

Ancestral

Blade Pieces

1
2K
2
4
0
0
2
4K
0
8
4
0
4
6K
0
12
0
6
6
8K
0
16
0
8
9
10K
0
20
0
10
Invitee Rewards
The person invited to the game also will receive rewards. All rewards are additive.
The invitee must reach the level or pay enough real money before the event ends to receive that specific prize.
Village Level Reaches
Level
Silver
Turf
Tribal

Armbands

Research

Guides

10
2k
2
0
0
15
3k
4
0
0
20
4k
0
3
0
25
5k
0
0
15
30
6k
0
5
15
Spend Money During the Event
Amount
Silver
Turf
Cornelians
Skill Book Lv1
Tribal

Armbands

Equipment
$10
5k
5
3
0
0
$20
8k
10
3
0
0
$50
10k
15
5
0
0
$100
0
0
0
5
5
Ancestral Helmet
$200
0
0
0
10
10
Ancestral Armor
$500
0
0
0
15
15
Ice Hat