In the Lucky Lottery Event the player spins a wheel and wins prizes. Each spin requires coins that are won in the smog forest.
Requires Level 12 to participate.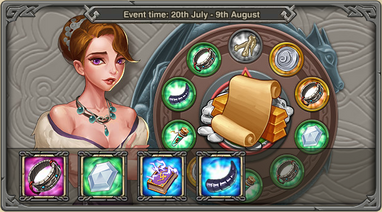 Mechanics
At the start of the event the player is given 5 Lucky Coins, with which they can take part in the lottery. Each go at the lottery costs 3 such coins. It will result in gaining the player one of the ten resources displayed on the board.
If the player dislikes the resources displayed on the board, a Refresh Card can be used to get a new random set of rewards. Each player is given one free refresh card at the start of the event. Instead of using refresh cards, the player can also wait for the set of rewards to automatically refresh itself every 4 hours.
There is also an option to do the lottery ten times in a row costing 30 Lucky Coins (changed to 30 times for 90 Lucky Coins). Each entry in the lottery counts towards a grand total, which can rewards players with an extra bonus. (feature removed)
Earning Lucky Coins
The event itself claims that battling in the Smog Forest is the only way to get more Lucky Coins. Plundering levels, however, will get you more lucky coins, that vanish after refreshing (or cause a player to not get rewards, when he actually has insufficient left). This problem was fixed Friday morning (29.07.2016)
Prizes
A player can get:
Each of these prizes can be part of a random set of rewards more than once.
Extra prizes
Lottery Entries Reward
These are the prizes based on the total amount of lottery entries. Entries from all Battle Groups are counted together. *NOTE* Lottery Entry WAS REMOVED. IT IS NO LONGER PART OF THIS EVENT*
Amount of entries
Rewards
500
2000 Silver
1000
2000 Silver

200 Odinite

2000
2000 Silver

200 Odinite

2 Research Guides

5000
2000 Silver

200 Odinite

4 Research Guides

10000
2000 Silver

200 Odinite

6 Research Guides

1 Excellent Cornelian
Viking Treasure
You can either buy keys for 100 gold each, or you have a chance at getting keys when you spin in the lottery.
If you collect all 4 keys, Shattered Key, War Key, Courage Key, and Enlightenment Piece, you can open the Viking Treasure box to get:
Date of the Event
Rewards from

Treasure Chest

September 2016
10 Fashion Piece
5 Normal Flint
2 Cornelians
5K silver
March 2017
10 Fashion Piece
5 Normal Flint
2 Cornelians
5K silver
April 2017
10 Fashion Piece
5 Normal Flint
2 Cornelians
5K silver
Ad blocker interference detected!
Wikia is a free-to-use site that makes money from advertising. We have a modified experience for viewers using ad blockers

Wikia is not accessible if you've made further modifications. Remove the custom ad blocker rule(s) and the page will load as expected.