This event is available to all players. Higher level prizes are limited to paying players only.
Requires Village Level 6 to play.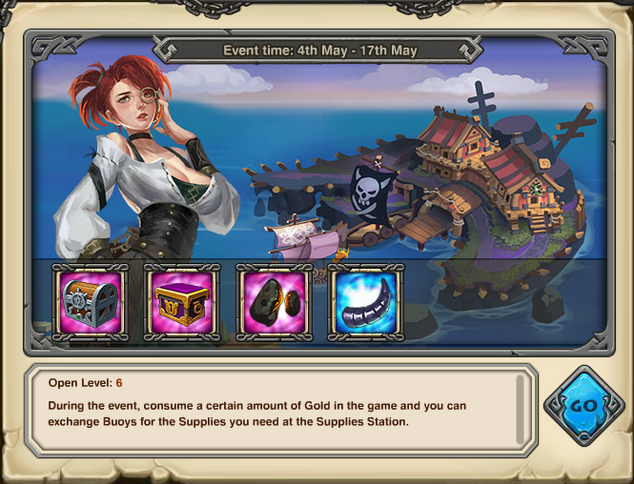 Mechanics
Supplies are spent traveling to islands which have treasure chests for the player to open. 3000 Supplies are given to the player after reset daily even if the player does not load the game. More supplies can be acquired by spending gold in game.
Each 1 Gold spent allows 200 supplies to be collected.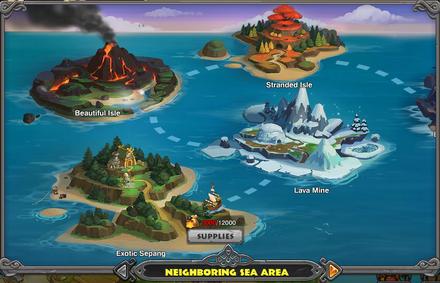 Prizes
Supplies are NOT cumulative. Supplies are used up as you travel to each island.
Island
Need Supplies
Gold Spent to Unlock
Rewards
Exotic Sepang
12k
60
10 Research Guides
2500 Silver
10 Milk
10 Hourglass
Lava Mine
30k
150
2 Cornelians
10 Research Guides
30 Solid Bronze
10 Hourglass
Beautiful Isle
60k
300
1 Regular Spoils of War
4 Tribal Armbands
10 Research Guides
30 Damaged Pelts
800 Odinite
10 Hourglass
Stranded Isle
120k
600
4 Cornelians
10 Sacred Crystals
10 Research Guides
5000 Silver
20 Ancestral Helmet Piece
Endless Green City
200k
1000
6 Tribal Armbands
10 Sacred Crystals
10 Research Guides
5000 Silver
20 Ancestral Armor Piece
Pirate Land
300k
1500
6 Skill Book Lv.1
10 Bull Horns
2400 Odinite
7500 Silver
20 Ancestral Blade Piece
Boulder Isle
420k
2100
1 Rare Spoils of War
6 Cornelians
20 Bull Horns
20 Sacred Crystals
7500 Silver
20 Ancestral Necklace Piece
Dragon Bone Isle
600k
3000
14 Tribal Armbands
30 Bull Horns
20 Sacred Crystals
2400 Odinite
10k Silver
Seaside Isle
900k
4500
10 Normal Flint
8 Cornelians
30 Bull Horns
30 Sacred Crystals
50k Silver
Gold and Silver Isle
1380k
6900
20 Normal Flint
20 Tribal Armbands
40 Bull Horns
40 Sacred Crystals
8000 Odinite
Resurrection Isle
2000k
10000
1 Random Special Attire Chest
1 Rare Spoils of War
20 Normal Flint
50 Bull Horns
50 Sacred Crystals
100k Silver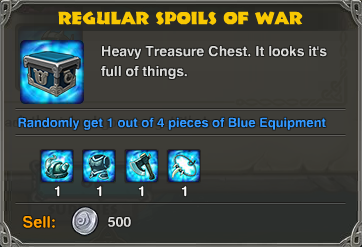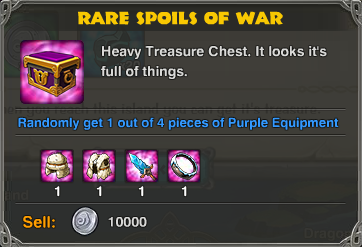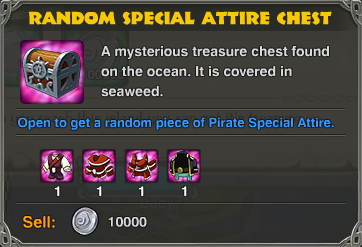 Strategy
The first 2 islands can be accessed just using the free supplies given to you everyday. Free supplies are collected even if the player misses loading the game a day or more.
The event lasts 14 days, and 3000 supplies are given daily. 14*3000=42000 supplies for free by the last day of the event. 42000 supplies are exactly enough to open the first 2 chests. The 3rd chest would require 300 gold or on average 21.43 gold spent per day over 14 days.
29,900 Gold must be spent during the 2 weeks of the event to unlock all chests other than the first two chests.
Bugs
If you would go over the individual item quantity cap of 30 for Hourglasses in your inventory by collecting a prize, then extra Hourglasses will disappear. For example, you have 25 Hourglasses in your inventory and collect the first prize of items which contain 10 hourglasses, then you will only have 30 Hourglasses since those have a cap of 30 in the inventory. The extra 5 hourglasses will not appear in the "Temporary" inventory tab. It is unknown if this applies to other items as the other prizes have very high caps.
Ad blocker interference detected!
Wikia is a free-to-use site that makes money from advertising. We have a modified experience for viewers using ad blockers

Wikia is not accessible if you've made further modifications. Remove the custom ad blocker rule(s) and the page will load as expected.